What is the Site of Reversible Destiny –YORO PARK?
The Site of Reversible Destiny –Yoro Park is one of the art/architectural works of the internationally acclaimed artists/architects Shusaku Arakawa + Madeline Gins.
Based on their long-term research, Arakawa + Gins came up with the conclusion that we should transform the present world into a hopeful future, using the unlimited possibilities of our bodies.
Arakawa + Gins stated that changes in bodily perception would lead to changes in consciousness; and so they became determined to explore architecture and construct environments that can challenge the body as a way to overcome death, and to reverse our destinies.
In the Site of Reversible Destiny –Yoro Park, horizontal and vertical lines are eliminated as much as possible, and a number of artificial horizons are scattered throughout to disturb our innate sense of balance and perspective.
We are invited to walk like toddlers in the site, which is structured to rebuild our perceptions as we first started to know the world.
The Site of Reversible Destiny –Yoro Park should be seen as only a starting point, as Arakawa + Gins always said, a project that is to be continued.
Because the Site of Reversible Destiny-YORO PARK has many steep slopes, we advise that you wear rubber - heeldshoes.

Virtual tour of the site of Reversible Destiny-Yoro
Produced by Arakawa+Gins Tokyo Office
Facility Outline

Open
9:00 am to 5:00 pm (Entrance until 4:30 pm) *May be closed due to weather conditions.
Entrance
fee

Individual
Group
General
770 yen
530 yen
High school
students
510 yen
380 yen
Elementary
and
junior high students
310 yen
210 yen
Coin locker
100 yen

※Group discount for parties of 20 or more.
※Preschoolers are free.
※Elementary, junior and senior high students must be accompanied by an adult.

Closed
Every Tuesday (the following day if a public holiday falls on Tuesday), year-end and New Year holidays(December 29- January 3)
Area Map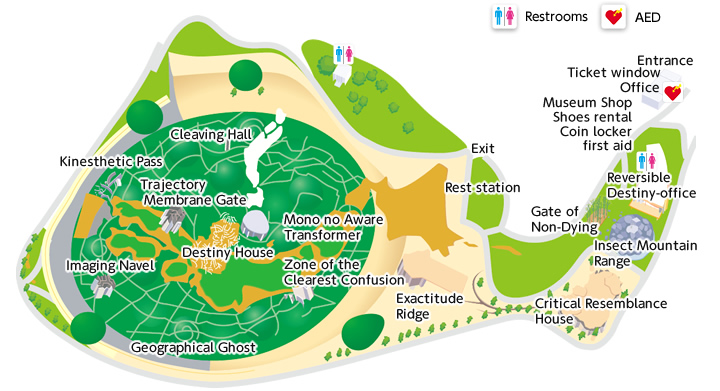 For Your Enjoyment
The Site of Reversible Destiny –YORO PARK is an experimental art project created by artists/architects Shusaku Arakawa and Madeline Gins. Due to the many steep slopes of the site's huge bowl-shaped terrain, below you will find information regarding our services to make your visit safe and more enjoyable.

Please watch your step, especially when you are with small children.

Charge-free helmets and sneakers are available for rent. Please feel free to ask our museum shop.

Some areas are not accessible by baby carriages and wheelchairs. Please follow our staff's directions if you need to use either of them.

One-coin lockers (100 Japanese yen) are available to deposit your belongings. We can also keep your larger pieces of luggage at the museum shop. ( Available time 9:00~17:00 )

Restrooms are located in the "Reversible Destiny Office – Yoro".

If you accidentally get hurt, contact our staff for immediate help.
The Site of Reversible Destiny –Yoro Park invites visitors to encounter unexpected wonders that may happen every second through their bodies, and to discover incredible possibilities within themselves.
Transportation Guide : Access
Yoro Park

503-1267 1298-2 Takabayashi, Yoro-cho, Yoro-gun, Gifu
Getting here on public transit

15 minute walk from Yoro Station on the Yoro Railway
Transportation(by car)Parking Lot Map

10 minutes from Yoro IC, 20 minutes from Ogaki IC, 25 minutes from Sekigahara IC
| | |
| --- | --- |
| Site of Reversible Destiny Leaflet | |
* Please note that This Museum is not responsible for any damage associated with the installation of such viewing plug-ins to the computer or software you are using.
Links
ARAKAWA + GINS
GIFU Prefectural